"Enthusiastische Mitarbeiter entwickeln und verwalten sichere und innovative IT-Lösungen, die bei Ihren Kunden einen deutlichen Mehrwert darstellen."
In einer sich digitalisierenden Gesellschaft wird es für viele Unternehmen immer schwieriger, die Kontrolle über ihre IT-Umgebung zu behalten und diese sicher und konform zu halten. Unsere Solvineers arbeiten täglich mit großer Begeisterung daran, jeden unserer großartigen Kunden mit sicheren und innovativen IT-Lösungen zu unterstützen. Damit unsere Kunden weiter wachsen können, ohne sich um die Sicherheit oder Stabilität ihrer IT-Umgebung sorgen zu müssen. Das ist unsere Mission.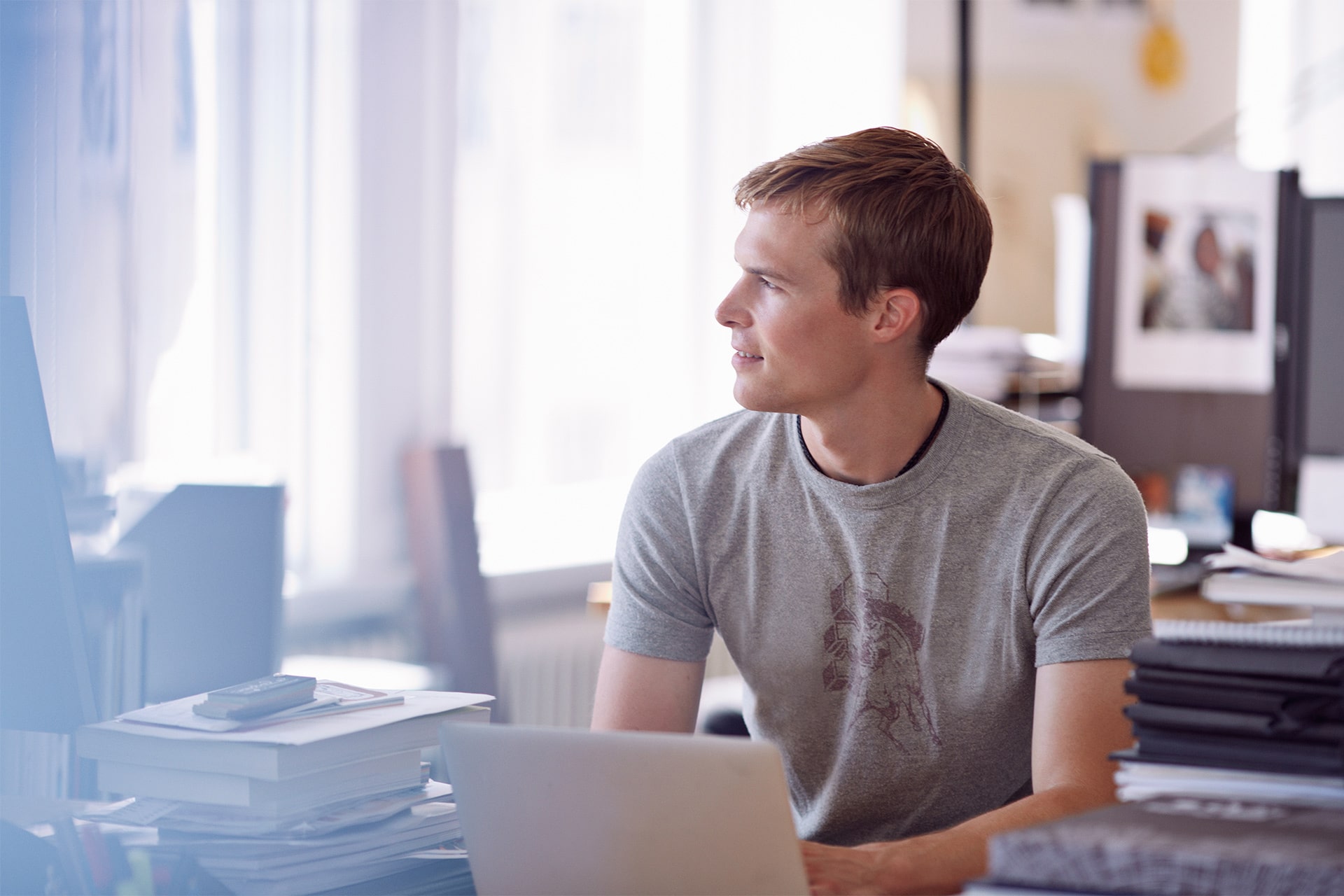 Mehr als 350 motivierte Mitarbeiter arbeiten bei Solvinity. Unsere Mitarbeiter verfolgen alle ein gemeinsames Ziel: unseren Kunden einen Mehrwert zu bieten. Alle unsere Solvineers setzen unsere Kernwerte Engagement, Kreativität, Fachwissen und Integrität in ihre Arbeit und ihre Kundenbetreuung um. Um unsere Kunden zufrieden zu stellen, setzen wir auf unsere langjährige Erfahrung in den Bereichen Innovation, Transition und Transformation. Und das für Unternehmen jeder Art und Größe, die eine Gemeinsamkeit haben: Sie verarbeiten sensible und geschäftskritische Informationen.
Zum Schutz dieser kritischen Informationen ist eine geordnete Risikominderung von entscheidender Bedeutung. Eine erfolgreiche Risikobegrenzung kann jedoch eine Herausforderung für innovative Unternehmen sein. Diese zeichnen sich schließlich durch Veränderung aus. Erfolgreich zu sein bedeutet, diese Veränderung in den Griff bekommen zu können. Der beste Weg, die Kontrolle über Digitalisierung und Innovation zu behalten, ist, auf einem zuverlässigen Fundament zu arbeiten. Dieses Fundament bieten wir Ihnen.
Wir sind uns bewusst, dass unsere Dienstleistungen Menschen, Unternehmen und Institutionen betreffen, und in vielen Fällen unsere Gesellschaft im Allgemeinen. In allem, was wir tun, sind wir uns dieser Tatsache bewusst. Mit zuverlässigen und sicheren IT-Umgebungen in enger Zusammenarbeit mit unseren Kunden wollen wir etwas bewegen. Unsere innovativen IT-Lösungen fördern die Risikominimierung und ermöglichen es Ihnen, die Kontrolle und den notwendigen Spielraum für Innovationen zu bewahren. So stellen wir Ihnen und Ihrem Unternehmen die notwendigen Werkzeuge zur Verfügung, um die Kontrolle über Ihre IT zu erlangen und zu bewahren.
Wir setzen unser Wissen täglich in die Praxis um und erbringen Dienstleistungen für lokale, regionale und nationale Regierungseinrichtungen. Darüber hinaus vertrauen auch Banken, Versicherungen und große Unternehmensdienstleister auf das Know-how von Solvinity und unsere Secure Managed IT Services. Kurz gesagt: Es ist unser Anliegen, Unternehmen zu helfen, sich auf ihr Kerngeschäft zu konzentrieren.
"Mit unserer Position als "secure Managed-IT-Service-Provider" und einem Portfolio von Cloud-Diensten unterstützen wir Unternehmen und Organisationen bei der Förderung ihrer digitalen Transformation. Unsere erfahrenen Solvineers und unsere langjährigen Beziehungen zu namhaften Kunden bilden eine solide Grundlage für weiteres Wachstum." – Daniëlle Schuur, CEO.
Great challenges for new Solvineers
Corporate Social Responsibility
Solvinity takes corporate social responsibility extremely seriously. This includes environmental awareness, quality and services. As a leading IT service provider, we devote a great deal of care to the quality of our activities. Whatever we deliver, it exudes quality. Want to know more?
Sign up for the Solvinity Newsletter
Receive the latest news, blogs, articles and events, every quarter. Subscribe to our newsletter. Meld je aan

voor onze nieuwsbrief
Elke twee maanden het laatste nieuws in je mailbox met interessante artikelen, events en andere publicaties over thema's zoals cloud, security, de werkplek en automation.