Secure Managed
IT Services
Een veilige basis voor jouw IT
Een ervaren partner nodig voor jouw IT? Solvinity biedt alles wat je nodig hebt voor een veilige en betrouwbare IT-omgeving. Zo houd je de controle over je IT en kun je verantwoord groeien.   
Proactief en adequaat reageren op cybersecurityaanvallen? Laat het zorgeloos over aan Solvinity. Wij bieden een...
MEER INFORMATIE
Betrouwbare en veilige IT-omgevingen zijn in iedere branche nodig, maar in sommige branches onmisbaar. Overheden, financiële instellingen en de zakelijke dienstverlening vertrouwen daarom op onze dienstverlening. Lees er per branche meer over.
Veiligheid voorop en altijd overzicht , voor de beste customer experience met een flexibele IT-omgeving. Laat dat nou net zijn waar Solvinity ijzersterk in is.
Zakelijke dienstverlening
Jouw klanten meer snelheid, functionaliteit en (self) service bieden? Het antwoord ligt in een betrouwbare IT-omgeving. Daarom werkt de zakelijke dienstverlening met Solvinity.
De mooiste uitdagingen voor nieuwe Solvineers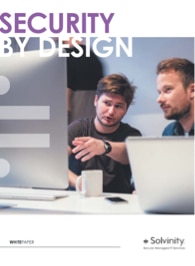 Security by Design white paper
Veiligheid begint bij de basis
In ons werk als IT dienstverlener streven wij naar een veilige digitale toekomst. Je zult je afvragen of dat nog mogelijk is in een tijd waarin zelfs amateuristische cybervandalen grote schade aanrichten aan organisaties? Ons antwoord is "Ja!". Samen met onze klanten doen wij er alles aan om een betrouwbare uitgangspositie te creëren voor een gezonde digitale toekomst. En dat begint bij de basis. 8 januari 2021
Sinds de transitie naar Lango Workspace van Solvinity is de interne samenwerking bij 9292 merkbaar meer...
MEER INFORMATIE
4 januari 2021
Of het nu een pandemie is, een nieuwe technologie die opkomt, of plotselinge ontwikkelingen in de...
MEER INFORMATIE
14 december 2020
Dit jaar zetten wij onze relatiegeschenken om in een donatie aan Voedselbank Amsterdam. Bekijk de video...
MEER INFORMATIE
Kunnen we je verder helpen?