Secure Managed
IT Services
A secure foundation for your IT
Are you in search of a competent partner when dealing with your IT? If you want a secure and reliable IT environment, Solvinity offers you what is required. You keep control of your IT while your organisation grows responsibly.
Is your organisation ready for the next step in its Cloud transition? Transform your IT...
READ MORE
Reliable and secure IT environments are needed in every industry but indispensable in some industries. That's why governments, financial institutions and the business service industry rely on our solutions. Choose a sector and read about your options.
Security first, structured overview and a flexible IT environment offering the best customer experience. That's exactly what we do at Solvinity. It's our essence. 
More speed, functionality and (self) service for your customers? Solvinity offers you the solution: a stable IT environment. Which is why business services enjoy fruitful cooperation with us.
Certifications, reports and partnerships
With our SOC reports for the private cloud and Azure public cloud, you can be sure that your data is in good hands. Are there payment details to process? We provide a PCI DSS certification specifically for your environment.
Looking for a safe and controlled way to move to the public cloud? As a partner and specialist for the two largest public cloud providers at this moment, we can help you make the right choices and set up the right environment for your organization.
Great challenges for new Solvineers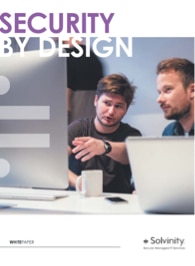 Security by Design white paper
Security starts at the foundation
In our work as an IT services provider we strive for a secure digital future. You might ask yourself if this is still possible in a time in which even the most amateurish cyber criminal can cause great damage to organisations. Our answer is 'Yes!'. Together with our customers we do everything we can to create a solid basis for a healthy digital future. And that starts with the foundation. 12 May 2023
How digitally resilient are Dutch organisations? Read it in this research report, with tips from our...
READ MORE
20 April 2023
Want to know how IT outsourcing can transform your municipal organisation into a governance organisation? Read...
READ MORE
3 April 2023
Our online migration guide offers direction on choosing the right approach to migrating to the cloud....
READ MORE
Sign up for the

Solvinity Newsletter
Receive the latest news about our services, interesting blogs, papers and articles. We like to keep you informed about: