Get things done. Always. Easy. Anywhere​
Ensure business continuity under all circumstances? With Lango Workspace by Solvinity you can. This ready-made workspace solution provides efficiency, productivity and convenience for the optimum performance of all your employees.
Go for maximum efficiency with Lango Workspace by Solvinity. Employees are given direct access to the apps and information they need for an effective workday. This workspace solution provides the ideal environment for high productivity, smooth teamwork and business continuity. Anytime, anywhere, on any device.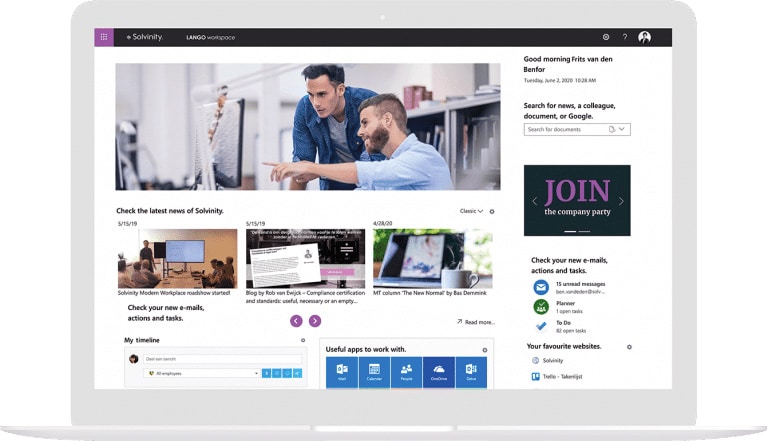 Productivity depends on accessibility. A central portal and single sign-on makes it easy for all your employees to access all business applications, tools and information they need. All from one browser. The intuitive and personal workspace makes it easy to work together safely. In short, optimal focus in an optimal working environment: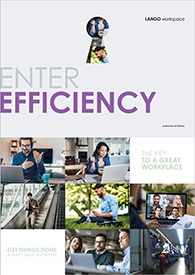 The 11 most important features
of the Lango Portal
Would you like to know more about the Lango Workspace and the Lango Portal?
In the brochure you can find an overview of its functionalities. Do you need a fast and smooth transition? No problem. Our best practices ensure a standardised and predictable transition. In no time, we will help your employees to make the most of their new working environment, using the proven technology of Microsoft Office 365, the intuitive design and advice from our Lango Coach.
Remote work requires a different approach in terms of security. The cloud-based workspace technology and our Secure Managed IT Services give you effortless control over devices and data. Onboarding of employees, upscaling and management have never been easier. You can rely on:
Would you like to get started with
Lango Workspace?
Give your employees focus and productivity with an efficient, quickly scalable and user-friendly solution. Give them Lango Workspace by Solvinity. Contact us.