Giarte 2020: Solvinity has grown its fan score
Amsterdam, 28 augustus 2020
Solvinity has grown its fan score by 20% in 2019, which has led to higher satisfaction in service provision for Infrastructure Management, Security Management and Application Management. We are very pleased with this result, because our customer-oriented approach is also reflected in the assessments on competencies and customer focus, with skills, openness and willingness are positively experienced by customers.
Hans van den Broek, CEO of Solvinity: "Service provision, also in IT, remains a peoples business. Together with employees of our customers, we ensure that complex infrastructures function optimally and secure and future-oriented IT solutions. The positive outcome is a result of the commitment of our employees, who deserve a great compliment for this. "
Read more at: https://it-experience.giarte.nl/provider/solvinity/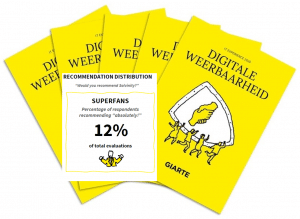 Sign up for the Solvinity Newsletter
Receive the latest news, blogs, articles and events.
Subscribe to our newsletter. 17 March 2022
Read in this blog how to integrate security into your IT environment, from platform and cloud...
READ MORE