Giarte 2020: Solvinity has grown its fan score
Amsterdam, 28 augustus 2020
Solvinity has grown its fan score by 20% in 2019, which has led to higher satisfaction in service provision for Infrastructure Management, Security Management and Application Management. We are very pleased with this result, because our customer-oriented approach is also reflected in the assessments on competencies and customer focus, with skills, openness and willingness are positively experienced by customers.
Hans van den Broek, CEO of Solvinity: "Service provision, also in IT, remains a peoples business. Together with employees of our customers, we ensure that complex infrastructures function optimally and secure and future-oriented IT solutions. The positive outcome is a result of the commitment of our employees, who deserve a great compliment for this. "
Read more at: https://it-experience.giarte.nl/provider/solvinity/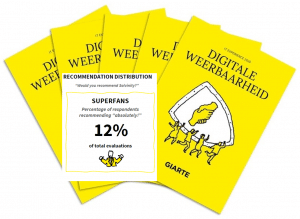 Meld je aan voor de Nieuwsbrief
En ontvang elk kwartaal de Solvinity Update met het laatste nieuws, blogs, case studies en events.
We sturen je een e-mail om je aanmelding te verifiëren. Dit kan een paar minuten duren. In ons privacy statement lees je hoe wij omgaan met jouw data. 14 March 2019
There used to be a saying that the best engineers are sitting with their arms crossed...
LEES MEER
20 December 2019
Our Oracle Database Hotel offers the flexibility of a virtualized platform, without additional licensing costs. Read...
LEES MEER
13 May 2020
Kubernetes is the orchestration tool when you switch to container technology and a microservices architecture for...
LEES MEER
Kunnen we je verder helpen?
Maandag t/m vrijdag van 08:00 - 18:00 uur