Slow working environments costing up to 1 business day per month
Amsterdam, 13 august 2021 – Each month, up to an entire man-day is lost due to slow or malfunctioning work environments. This is apparent from our workplace survey, which also concludes that employees mainly want a safe working environment that is available anytime, anywhere. However, this is not always the case in traditional work environments. 
In general, people are reasonably satisfied with their current work environment, with administrators and end users giving their current workplace ratings of 7.2 and 7.5 respectively. End-users are especially happy if they have the option of working anytime, anywhere: 89% of the employees who currently have access to their workplace are satisfied or very satisfied with it. Users with a workplace that offers Single Sign-On (a single password for all functions within the digital workplace) are also clearly very satisfied with it (87%). 
"Employees want Single Sign-On and are fed up with slow working environments"
The greatest irritation end-users experience is a sluggish working environment and slow applications. Almost 20% of end users say that they spend at least one hour a week on IT systems that aren't functioning properly, with almost 60% saying that certain applications and even the entire work environment is "occasionally" completely inaccessible. 3% even think that it costs them 4 hours or more every week. Moreover, the survey shows that administrators are aware of this, with their estimates almost matching those of end users!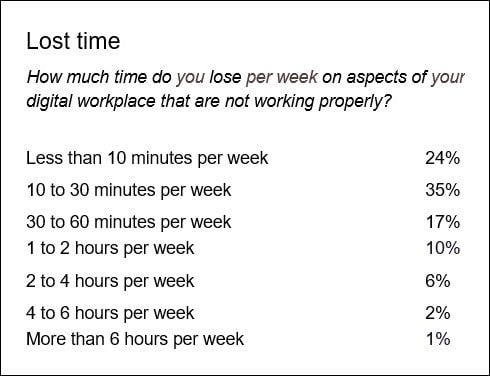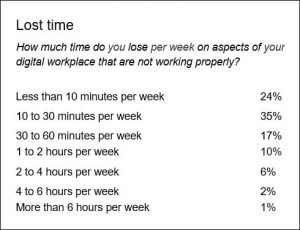 Nancy Roos-Beukers, CCO of Solvinity: "People don't want to be distracted by the technology with which they have to do their work: it should just work! Even when they are at home or on the road. A good workplace is crucial for this, since it is only when technology works well that there is a genuinely undisrupted work process." In her opinion, this is an important reason to consider a cloud-based workplace: "This gives organisations more control over their work environment and simplifies administration, which also makes it much easier to offer a secure and smoothly running work environment anywhere."
Roos-Beukers strongly believes in the added value of technology in the workplace, but with a human touch. "End users simply prefer to be helped by a human being rather than a robot. For example, when introducing Lango, our own digital working environment, we always offer a Lango Coach for the start-up phase: someone who helps end-users to quickly become familiar with the new environment. Our experience is that end users quickly embrace their new work environment this way."
"An interface that they can customise appears to be almost as unpopular with end users as a chatbot."
Of all the functionality that is still lacking in current working environments, Single Sign-On is the most important, according to end users surveyed, with 23% of them wishing to add this first. This is even clearly more important than access to the working environment from any device, which is the second functionality that end users would like to see added (14%). Administrators have slightly different priorities, as they would like end users to be able to manage simple IT matters themselves (18%). End users, however, are less interested in this (10%). 
Equally interesting are the functionalities that people don't have in their current work environment, but also say they don't miss. For example, only 2% of end users (and 3% of administrators) mention support by chatbots and/or AI as functionality they expect in a digital working environment. On the other hand, 32% of end users do consider a human helpdesk important. An interface that they can customise appears to be almost as unpopular with end users as a chatbot (3%) – while administrators seem more likely to think that's what users want (6%). 
The Solvinity Workplace Survey has been conducted by Panelwizard among 471 end users and 203 administrators at Dutch organisations with 200 employees or more. According to the administrators involved the survey, an average of 41% of the applications in current work environments are running on-premises. 34% run in a private cloud and 25% in a public cloud.  
11% of administrators say they no longer have anything (0%) running on-premises. 2% currently run everything in the public cloud, with the same percentage doing everything privately. One third (33%) still has more than half of all applications running on-premises. 23% run more than half in the private cloud, with 13% running more than half in a public cloud. 
Are you interested in what end users and administrators have to say about their working environment?
Read about it in the Solvinity Workplace Survey 2021.
1 November 2021
How do you manage twenty suppliers, each with their own technology and service level? 
READ MORE