Scale to your needs with a reliable partner
Unlimited scaling in the cloud? The Public Cloud is the perfect solution for your organisation. Especially if you are looking for unrivalled security, availability and performance.
You choose the amount of cloud
The Public Cloud allows you to scale up and down whenever you want and to pay pro-rata to use. This option offers advantages for many organisations. Do you manage the Public Cloud via Solvinity? Your new management partner is here. Our experienced team of Solvineers operates as an extension of your organization. Cloud is our core task. We continuously keep our knowledge up to date. With that knowledge, we help you make the best choice between cloud suppliers.
Fancy working in the cloud with the most certified provider in the world? Solvinity is a Microsoft Gold Cloud Productivity Partner: we offer exceptional expertise in various areas among which Azure.
"Fortunately, Solvinity is used to heavy loads and fluctuating environments. They make sure that capacity is always sufficient, while at the same time our SaaS solution functions as cheaply as possible."
A lightning-fast, stable and secure platform for optimum fraud detection at Friss
Solvinity has offered Managed Hosting to FRISS since 2016. They are currently making a move to Microsoft Azure's public cloud with the help of Solvinity.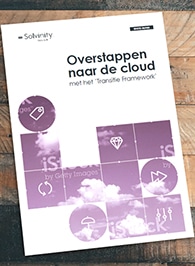 Cloud Transition White Paper
3 phases for a controlled migration to the cloud
We map out the conditions for a successful transition using our smart tools and assessments. Download the Cloud Transition Whitepaper for more information. More information about the Public Cloud? Focusing on your core tasks, while retaining control of your IT? IT Outsourcing is the...
READ MORE